When browsing my website, click on the image for further details and prices on each item.
Latest News: - website last updated 10th June, 2022.  Sections updated:  home page, Accessories, Stumpwork Kits, Goldwork Kits, New Releases, Specials, Books
Please note that we will be closed on Monday May 13th for the Queen's Birthday public holiday!
Please note:  As of 23rd June, 2021, we are no longer sending small orders as letters as Australia Post keeps losing them.  All orders, however small, will be sent as a parcel with tracking or as a registered letter.
The shop is open four days a week!  From Mondays through to Thursdays.  At the moment, check in with QR codes and masks are mandatory, hand sanitizer must be used on arrival - we will be checking your details as you enter the shop and if you can't QR check in, we have a covid log book for you to fill in.
Covid-19 Postage Update - We are sending all international parcels with DHL
If you require a quote on the shipping prior to sending, please add this to the notes section as you check out.  So far, the prices are averaging only a little more than using the postal system - note: you may be charged duties or taxes by your country.
As of January 2022, it is costing around $40.00 for 500g to USA/Canada and $46.00 for up to 1kg with DHL.
Ordering and Postage: - My website has a shopping cart - when you check out, the order is sent through to me to manually process - it does not charge your card or go to Paypal automatically.  If you require an estimate on shipping, please email me and I'll send you through a quote.  For my international customers, the prices quoted include the Australian tax which you don't have to pay - I will take the tax off manually before charging your card.  Please be aware that any customs fees or duties imposed by your country are out of my control.  As  guide, the postage is as follows:
Within Australia:
Up to 500g $13.00  -  Express post is available if requested.
Overseas:  Note:  the prices below are via Australia Post which we are not using at the moment.
New Zealand up to 500g $22.00 Standard Airmail with tracking
USA/Canada up to 500g $26.00 Standard Airmail with tracking
UK/Europe up to 500g $31.00 Standard Airmail with tracking
New Designs - Christmas Flight, Nodding Greenhood Pincushion and Blue Diamond Rose Box available now!
Looking for a present and can't decide what to buy?  Gift Vouchers are available in any amount that you wish to purchase.  Simply call or use the online order form stating 'gift voucher' and the amount you wish the voucher to be at item 1 on the order form.
*********************************************************
Framing service available.  If you don't have a good framer and like the way that I frame my work, I can organise framing for you through the framer that I use.  Please contact me for further information.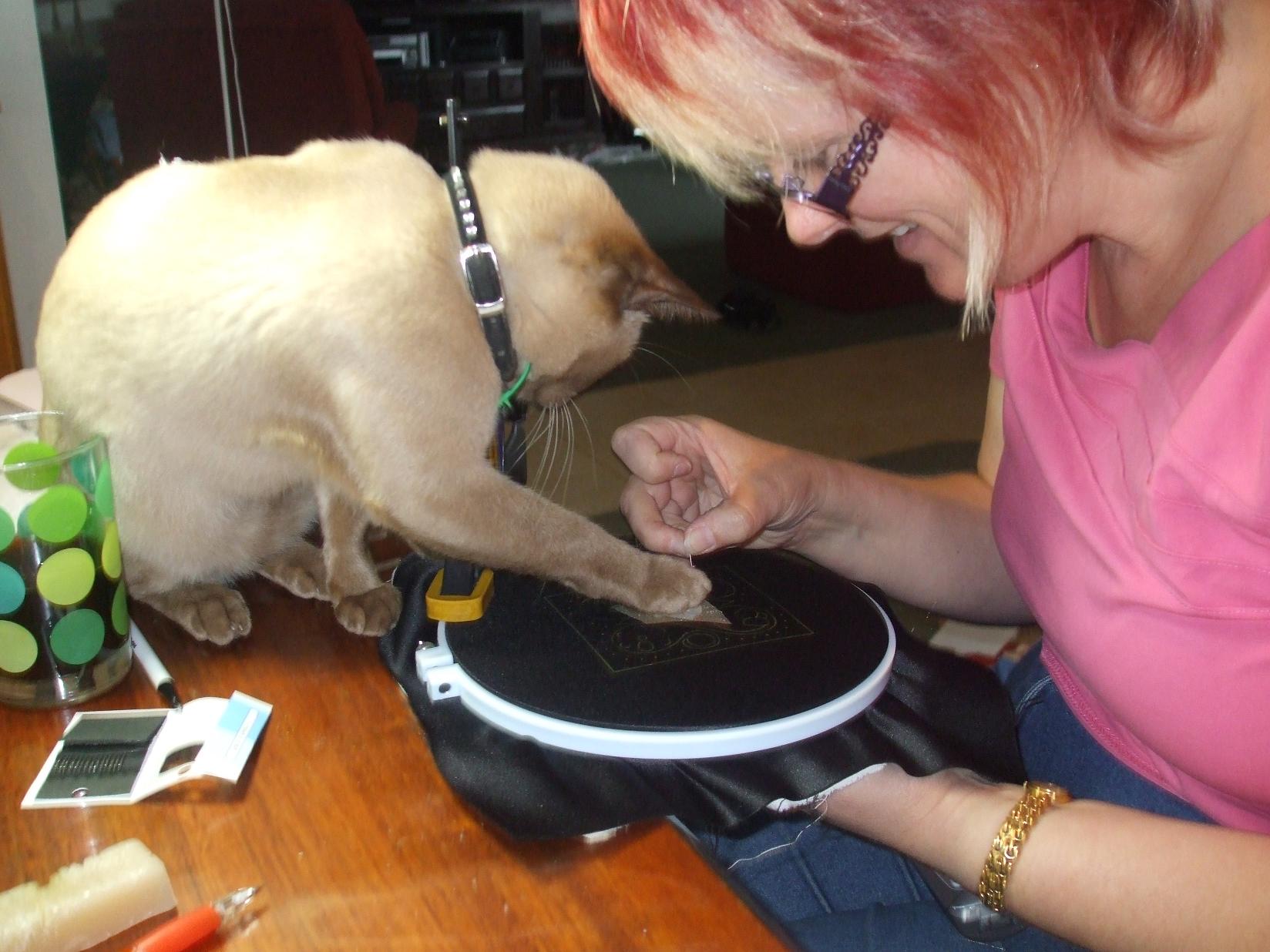 My Supervisor hard at work - 'The Stitch Goes Here!'
Quality Goldwork and Stumpwork Embroidery kits and supplies for the discerning embroiderer.